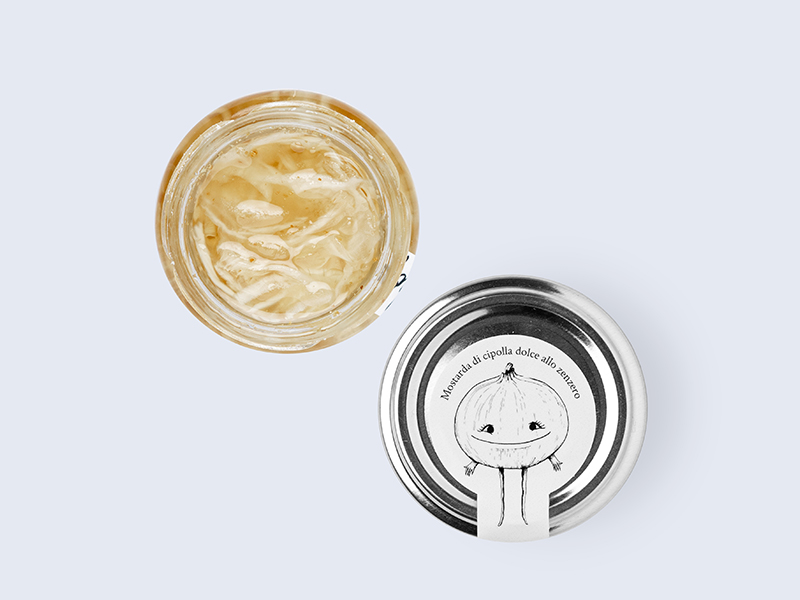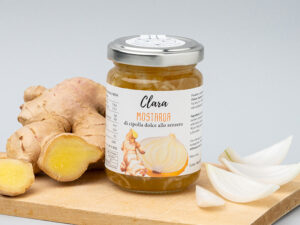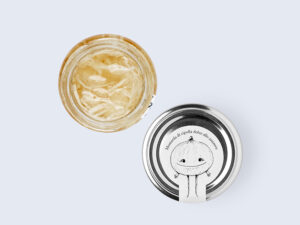 Clara sweet onion mostarda with ginger
A new version of Clara mostarda that will help you during hot summer days.
The ginger gives freshness and a spicy flavour, but still pleasant, to the sweetness of Clara. This sweet onion ginger mostarda is perfect for those who love oriental flavours but do not wish to give up on tradition.
Packaged in 150 g glass jars, it must be stored away from heat sources and once opened it must be stored in the refrigerator and consumed within a few days.
Ingredients
Sweet onions (average content: 40%), sugar (average content 60%), acidity regulator: E330 citric acid and ginger powder (0.15%). Total fruit: 40 g in 100 g of product, total sugars: 60 g in 100 g of product. Produced in a laboratory where NUTS, MUSTARD, CELERY and GLUTEN, are used.
Average nutritional values (per 100 g of product)
Energy value: 718.6 Kj – 171.17 Kcal
Fats of which saturated fatty acids: 0.0 g – 0.0 g
Carbohydrates of which sugars: 45.4 g – 45.4 g
Protein: 0.1 g
Salt: 0.001 g
Out of stock
Usage suggestions
It is excellent to be tasted with aperitif and semi-matured or herb cheeses, sliced meats and cold cuts. Perfect also to taste alone, or inside sandwiches or hamburgers.
Complete your aperitif
Discover the surprising and unique taste of artisan products based on Clara sweet onion. Enjoy a delicious aperitif: tickle your palate and amaze your guests.
All products