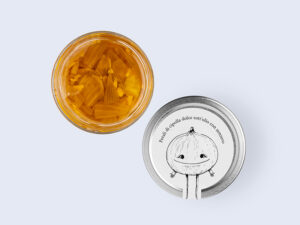 Clara sweet onion petals in oil with ginger
Pleasant pungent notes blend with Clara's sweetness
The very refreshing, pungent and almost spicy flavour of ginger is perfectly balanced by the sweetness and crispness of Clara. For those who love this root or are looking for fresh, summery, and unusual flavours, these onion petals in oil with ginger are perfect.
The 245 g glass jars (drained 190 g), must be stored in a cool, dry place, away from light and heat sources. Once opened store in the refrigerator and consume the product within a month.
Ingredients
Onions, ginger, sunflower oil, extra virgin olive oil, wine vinegar (sulphites), salt, sugar.
Average nutritional values (per 100 g drained product)
Energy value: 494 Kj – 118 Kcal
Fats of which saturated fatty acids: 8,34 g – 1,02 g
Carbohydrates of which sugars: 9,81 g – 5,69 g
Fibre: 1,45 g
Protein: 0.91 g
Salt: 1.69 g
Out of stock
Usage suggestions
Sweet onion petals in oil with ginger are perfect for your aperitifs paired to cheeses, cold cuts and sliced meats. Try them also as a side dish to a chicken breast.
Complete your aperitif
Discover the surprising and unique taste of artisan products based on Clara sweet onion. Enjoy a delicious aperitif: tickle your palate and amaze your guests.
All products